A quite misunderstood conception of Italy, and most of all, Florence, is that people are horribly obsessed with fashion, friends judge everything you wear, people are filled with complexes and everybody spends all their wages on appearance and fancy shoes. This is indeed not true, or at least not completely. The fact is that there is no 'fashion' of Florence, nor a precise standard of trends. It is a big game of looks, originality and creativity, not a catwalk.
Indeed, by walking by the streets of the city centre, reflecting by the vibrating shop windows of Via Tornabuoni and Via della Condotta, it is true that all Italian women and men will suddenly, rapidly, intimately glance at you, eyes will lay on your skirt, your watch, your shoes. Yet, this little, almost un-noticeable action is in no way malicious: there is no judgment, no derision. It is pure curiosity.
We are surrounded by trends, and Florence particularly is a little universe where cultures, nations and styles converse in a very concentrated space. Necklaces, iPhone covers, special edition Converse shoes zig-zag between the street with a juvenile, curious play of eyes, guesses, mental equations of colour combinations. People usually don't stare at your clothes if they don't like them: they might stare at your pretty face, your nice walk, but that is the same in every street of the world. People will notice you only if you want to be noticed, there's some kind of general rule behind this statement. Thus, nobody really comments if some one is not dressed well, rather if, though trying to do so, they do without taste. Mind you, there is an abyss here.
Taste thus is the core of Italian style: as I said above, there is no one 'trend', but instead a mix, a hurricane, a vibration of colours, leather, textures, patterns: idol is not whom spends the most, who cares the most, but who has a harmony of composition, who is not obsessed yet never out of place. To wear high heels in your backyard while walking the dog is ridiculous in any country, no matter how expensive and 'alla moda' is the pair.
Thus, don't worry too much on what to wear this evening, be rather yourself, express your emotion through colours and comfort: you'll see that beyond the harmony of texture, in the confidence of your expression, the light of your eyes, the brightness of your face, will glow more then any Chanel dress.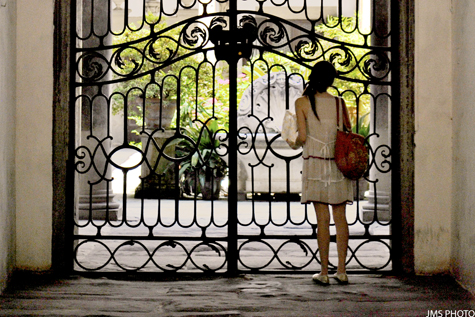 (Visited 64 time, 2 visit today)

Dicci la tua