Good things in life are hard to get. This is a fact really; who claims otherwise maybe just didn't gain enough, or didn't play it right. The view of Florence from the Piazzale Michelangelo is one of these.
Obligatory destination for all the visitors of Florence, the Piazzale Michelangelo was build and designed by the Italian architect Giuseppe Poggi in 1865, when Florence, for only five years, became capital of Kingdom of Italy.
Most of the 19th century structure of Florence was thanks to the very Poggi, who 'restored' Florence in a much more bourgeoisie context. Poggi tore down the historical city walls and build in their place French style boulevards that circumnavigate the town centre; he also redesigned some of the main town squares, such as Piazza Beccaria and Piazza della Repubblica, so that the entire city, now capital, would become more accessible and opened to progress.
The piazzale was the final opus of the architect, where he constructed an open terrace with a clear, 180 degrees-view of the entire town centre and placed a bronze replica of Michelangelo's David in the middle of it, so that the young king of Israel could guard the city. The view is something hard to describe with words: Florence spreads in its tiny shell in its completeness, the world known building stretch on the horizon in a surreal skyline, as a brushstroke by a genius artist. You can hear the sounds, feel the smells, the energy of city so unique, so special, so warm and alive. And right in the middle, the shiny river Arno cuts the city in half, reflecting with its flickering grace till the distant hills.
But to enjoy the marvellous view of the Poggi's terrace, there is slight price to pay. As I have said above, good things must be gained, and Piazzale Michelangelo is a good metaphor. Poggi designed also the walk path to reach the piazzale, starting from Porta San Niccolo', that being on the top of a small hill, requests a little effort, and will to climb. After taking a nice coffee in the excellent café 'Rifrullo' or an ice-cream in the little gelateria just by it, you can gather your strength and begin the steep stairway that goes all the way up, up-up, reaching finally, with a sweat and a smile, the earned view. Trust me, your fatigue will be repaid.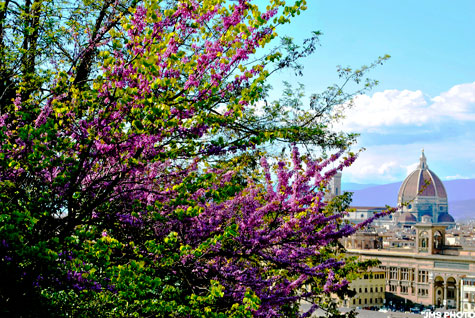 (Visited 69 time, 1 visit today)

Dicci la tua